As Far as The Eye Could See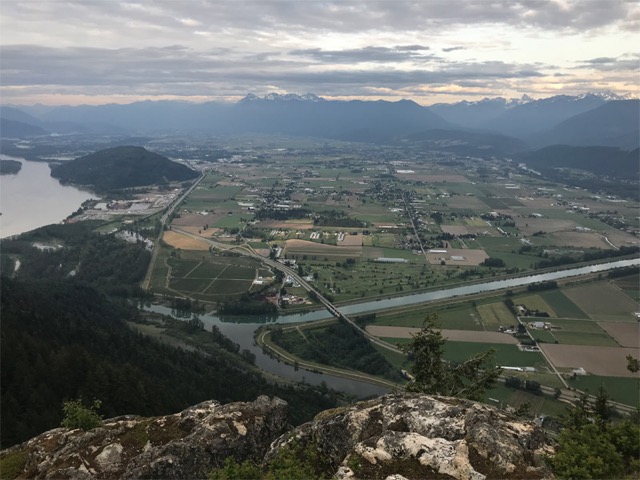 Up and over the east side of Sumas Mountain lies a view that will literately take your breath away. Next time you are wanting an adventure in the Fraser Valley outdoors, I encourage you to visit Sumas Mountain Regional Park. Nestled high up Sumas Mountain road you will continue on a Forest Service Road until you pass a gate into the park boundaries. (Please note that this gate closes at 6pm Winter months and 9pm Summer months.)
Just past the gate to your right is the lower parking lot and an outhouse for your use. From this point, there are many trails that branch off for hiking, mountain biking, and ATV riding. Outdoor enthusiasts of different skill sets will find something to curb their appetite for adventure.
On one particular day specifically, I continued up the road another 4km; up the bumpy dirt road with some friends to access another set of trails. Aiming for a 5km loop, we settled on the Knob Gobbler to catch a great view off the lookout.
The trail had some technical points which doesn't make it a beginner hike but more in the middle to advance range. An intimidating start straight up which almost makes you loose your breath is just preparing you for what lies ahead. Thick moss-covered trees and green vegetation make you feel like you've entered a new world of a magical forest. The wood bike bridges and a couple rock faces reassured me that this was not a hike for me to bring the younger kids along although I am sure my older kids would have been fine.
Once you've reached the radio tower above, you think the hike is done but it isn't. Continue around it to your right which brings you to the first lookout above the rocks. A beautiful view of the Vedder river below and the bridge crossing into Chilliwack. It's quite amazing how far you can see from this point. Deroche looks close enough to touch yet nestled behind Nicomen Mountain I know it's still quite the drive.
The nice thing about Sumas Mountain Regional Park is that you could map out a different route each time you visit. Essentially, it's a playground overlooking the Fraser Valley; the possibilities are endless. We are so lucky to have this landscape in our backyard.
An article by Natasha Mijinke
Fraser Valley Now Community Liaison